What will my child learn?
All activities at PK are tailored to your child's individual needs – ensuring they're age and stage appropriate.
Children follow the Statutory Framework for the Early Years Foundation Stage (EYFS) – as set out by the Department for Education and Skills. The Framework provides a good balance of daily adult-led activities and child initiated learning. We focus on the following key areas in our assessment of your child: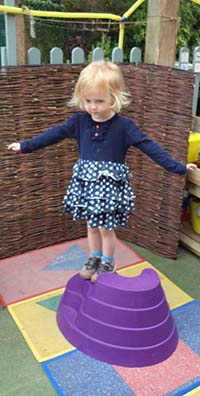 The Unique Child
Every child is a unique child who is constantly learning and can be resilient, capable and self-assured.
Enabling Environments
Children learn and develop well in enabling environments, in which their experiences respond to their individual needs and there is a strong partnership between practitioners and carers.
Positive Relationships
Children learn to be strong and independent through positive relationships.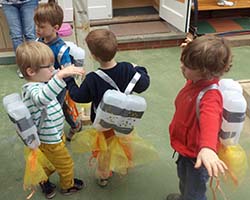 Learning and Development
Children develop and learn in different ways. The framework covers the education of all children in the early years, including children with special educational needs and disabilities. Play based activities are enhanced by staff both indoors and outdoors dependent on development and interests of the children.
The Prime and Specific areas of Learning and Development include: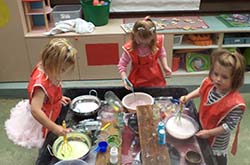 Prime Areas:
Personal, Social and Emotional Development
Physical Development
Communication and Language
Specific Areas:
Literacy
Mathematics
Understanding the World
Expressive Arts and Design
PK's Children learning objectives are to:
grow in confidence and to feel secure in the new environment
work with other children and adults
communicate and express ideas and feelings
develop hand/eye co-ordination
develop pre-reading skills and the love and understanding of books – use
mathematical language
examine the natural world
make their own decisions, to work towards independence
practice their physical skills and have fun … and so much more!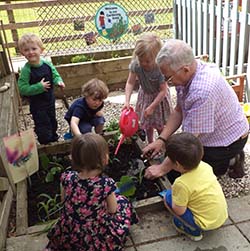 Parents and carers are welcome to join in the fun each week sharing stories baking, painting getting involved in all activities. Everyone's welcome.
'The quality of the teaching is outstanding. All staff have an excellent knowledge of the Early Years Foundation Stages. They provide children with a rich and vibrant learning environment. Children have a thirst for knowledge and are highly motivated in their learning.' Ofsted 2015